Shelly Meeder is always "Taking Care of Business." Like the classic rock song, the nine-year veteran of the CIS board knows how to get things done.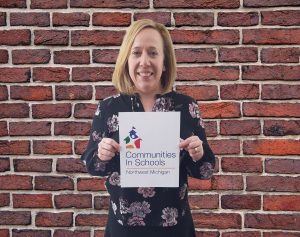 She has been Business Manager at Mancelona Public Schools for 12 years and an important part of CIS's growth. "It's been exciting to watch CIS grow," she said. "From the beginning, I've seen our programs flourish. Our robust supplemental instruction programs provide results, especially with graduation rates. Now we're taking that to surrounding districts and that's exciting."
Shelly (Class of '89) and her husband Mitch graduated from Bellaire. She attended CMU and majored in accounting. Her job as Business Manager entails budgeting, ordering, deposits and has spread to website coordination, Facebook administrator and several other facets. "And I also enjoy the public relations and social aspects of my work," she said.
The Meeders moved to Mancelona in 1998 – 20 years ago – and have a son Ian, born in 1999, and Alli, born in 2002. "Even though Mitch and I are Bellaire graduates, we chose to enroll our kids in Mancelona Schools because of the programs and the staff," she said. Ian attends Michigan Tech and Alli is a sophomore at MHS.
When not "taking care of business," Shelly and Mitch love to travel. They've enjoyed recent trips to Costa Rica, Mexico and Jamaica but are looking forward to staying in the states for a trip out West this fall. They also savor their "quiet time" and enjoy life at their home on the Cedar River with their dog, Rudy.
"CIS has come a long way," she said. "I've been proud to be a part of this organization."