If there was a Mt. Rushmore for CIS, Larry Murton would be front and center.   Murton has been a CIS board member since its inception and has watched it literally take on a new life since its start.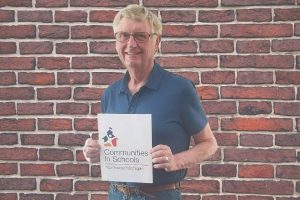 "CIS was born out of Community Resource Development," explained the retired banker, who was in the business for 44 years. "We decided to split into two organizations and it was agreed that I would go onto the CIS board to ensure a smooth transition. I thought it would be temporary but I developed a passion for it."
Larry has a passion for volunteering, in general. He was a Rotarian for more than 20 years; been in the National Ski Patrol for 54 years, including 51 at Schuss Mountain; co-founded both the Antrim Ski Academy and the Mancelona DDA; was on the Grand Traverse Community Foundation board for nine years; helped organize the Mancelona Area Water Authority; was on the Bellaire school board for nine years and also was a treasurer, player and manager for the Chain-O-Lakes Softball League.
So he has always been a success in mixing business with pleasure.   "I've always been proud of my volunteer activities," said Larry, who has been married to Dale, a nurse, for 48 years and has two children and five grandchildren.
"While I was with PNC (bank), my Mancelona branch was named outstanding branch in our peer group, the year after Dura closed," he said. "The award was based on growth and percentage of goals attained."
Larry was born in northern New York but grew up in Detroit, where he attended Denby High School. He went to Macomb Community College, Ferris State University and the Northern Michigan School of Banking at NMU.  His hobbies consist of skiing, motorcycle riding, family activities and – you guessed it – volunteer work.