KaLeigh is a "Shepard" Tending Her Flock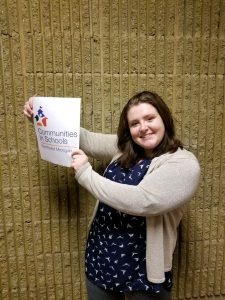 When most CIS employees are starting to wind down their day, KaLeigh Shepard is beginning to tackle her work. KaLeigh is the CIS site coordinator for the Mancelona Middle School. She started in November 2017.  "I focus primarily on the after school program," she said. "My responsibilities involve making sure students have the resources needed in order to be successful in school."
KaLeigh has a caseload of more than 30 students. She helps "walk them through" tough situations. That includes arranging counseling, setting up sports physicals, dental screenings and vision screenings.  She also provides resources for children with basic needs like boots, coats, binders, paper, pencils and even toiletry items.
"I think CIS has a big impact," she said. "It's been in Mancelona for a while now, so students know that a caring adult in their school building can help them focus 100 percent. This also helps the teachers out."
She sees every day the challenges that her students face. "Poverty is a big problem in this area," she said. "So our kids and their families face some real challenges.  KaLeigh helps the students – and their families – try to meet these challenges.
But when she gets home from her job, she likes to kick back.  "I am married and we have a dog and two guinea pigs," she said. "We love to go hiking and exploring trails. I love spending time with my family and just laughing with them. They are an amazing support."
She laughs when she recalls her first days of her CIS job.  "A lot of people were surprised I was married when I first started," she said. "But I'm 23. Maybe it's because I have a baby face!"
KaLeigh has been accepted into the MSU Blended Graduate Program and aims to get her masters in clinical social work in 2020.