Hannah's Story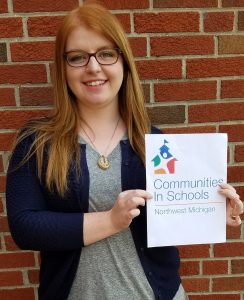 Hannah Bird has some very personal reasons why she enjoys making a difference as the new CIS Site Coordinator at Forest Area Schools.
"I attended Fife Lake schools from kindergarten through graduation," she said. "I experienced significant losses while attending school here and as a result I'm very passionate about two things: Grief support and safety."
Hannah was in eighth grade when her 8-year-old sister was killed in a downhill sledding accident. Her dad passed away the following year.
"The supports here were limited but my mom sought out grief support for me," she said. "I can't imagine where I would be without that support."
As a result, Hannah is focused on providing support for Forest Area students and their families.
"I have a caseload of 10 percent of the student population," she said. "I work with a wide range of needs including academic, behavioral, social, emotional and others. My role is to provide basic needs. I try to do that on a daily basis."
She can see the impact CIS is making.
"It allows teachers and administrators the ability to focus more intently on academics, which is resulting in many more students and families receiving the basic needs support."
She points out that there are unique challenges at Forest Area.
"Being in two counties is a challenge for traversing resources," said Hannah. "We are so far from several towns that parents are driving to work or living in areas without phone signals or internet access."
Still, she is proud of the difference CIS is making.
"I went to college originally to be a teacher," she said. "But I always cared more about a child that couldn't focus in class because of family factors."
With her degree in Family Life Education, she's in the perfect position to make a difference.