Danielle Brings Value to CIS!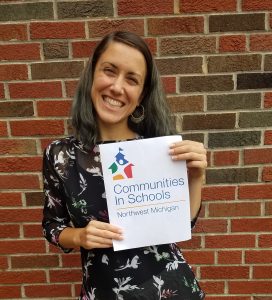 Danielle Portillo grew up in Traverse City and has lived in California and El Salvador.  But while her venues have changed, her values for "kindness and compassion" haven't.  "I think that's why I was drawn to social work and now to Communities In Schools," said Danielle, who is the CIS Site Coordinator for Suttons Bay Elementary School.
Her work background has entailed teaching English as a second foreign language for 10 years, translating and interpreting Spanish and English and as a social worker with refugees.  Her husband is from El Salvador and the couple have two children, Bruno and Luca.  She has also worked in after school programs, prisoner reentry programs and family outreach.
"I love kids and education and strong supportive communities," said Danielle. "There is nothing more valuable than kindness and compassion – even when we don't understand why a person is acting a certain way. There is always a reason – and even if we don't know what that reason is, when we validate that person we are allowing them to be who they are – and that makes them feel safe."
Danielle feels CIS is making a difference in Suttons Bay. "All of the tools we use are helping to build relationships between students, the school staff, parents, the community and local service providers," she said. "This strengthens the academic environment and also empowers students to be active in creating themselves and achieving in school and life."
When she's not working, Danielle loves dance (she studied for many years), yoga and being outside. She also played competitive soccer for 13 years. "I love being with my family, traveling and meeting new people," she said.  "And I also love music and writing." But the center of her world, she says, is her family.  "They help me stay centered and grounded," she said. "They are energetic, intelligent and hilarious!"