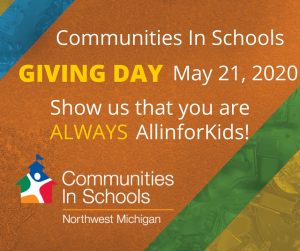 On May 21, 2020, our community will unite to raise money for Communities In Schools of Northwest Michigan —and YOU can join! Your gift will help students and families in our community that have been impacted by the current crisis – and continue to empower them to stay on track to graduation no matter what
You can help support our northwest Michigan students by giving back to Communities In Schools.  $1 goes a long way!
A gift to CIS is so much more than just a donation to another non-profit. A gift from you means that we can continue to change children's lives year after year. From mentoring & tutoring, to assisting meeting basic needs, social and emotional help, to college and career exploration, a donation to Communities in Schools helps us reach those struggling.